Explore the Village – Shantytown
Thirty Shops and Buildings to Explore.
With two village streets filled with shops and buildings to explore, you'll find fascinating stories of life in the early years of colonisation both on the West Coast and New Zealand.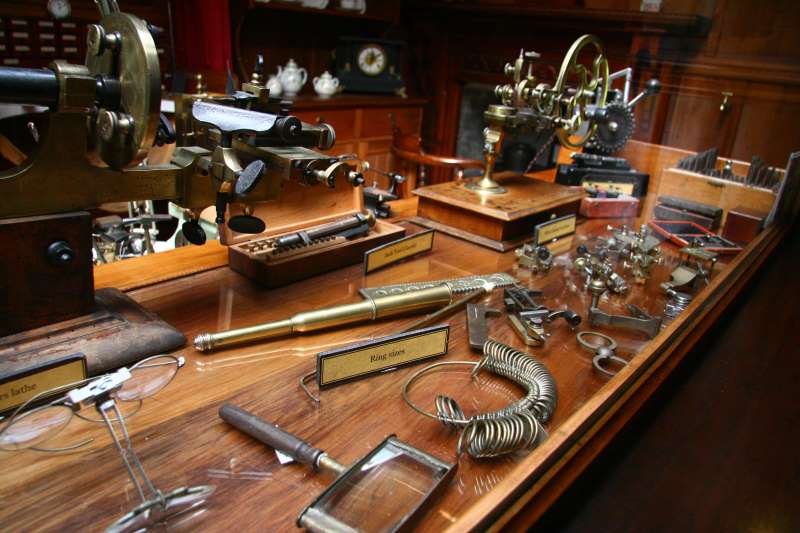 Sutherland's Jewellers
The Mayor of Shantytown. This shop was made in honour one of the founders of Shantytown, Barney Sutherland.
Usually the skills of a watchmaker and jeweller were combined in smaller towns to make the businesses viable. Clocks and watches were expensive items (costing at least two weeks wages) they would always be repaired rather than thrown away. Along with jewellery, clocks and watches shops like this would sell ornaments, giftware and presentation cups.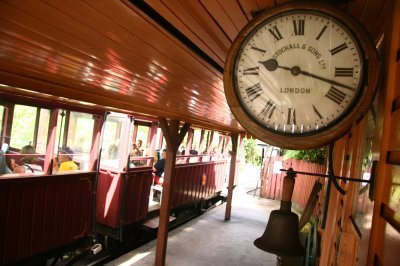 Railway Station
Built to original railway plans.
A close to exact 3/4 replica of a railway station. Here you'll board the train for your journey through native rain-forest to the Gold Claim and Sluice Area.
Infants Creek railway line follows an old bush tramline that was used to get logs to a timber mill. The line travels through native rain-forest and old gold workings. Shantytown has several steam trains which are housed in the massive workshop previously used at the now defunct Blackball Coal Mine. Two engines are used on the Infants Creek line.
Church
1866 Church from No Town in the Grey Valley.
Now an inter-denominational church, this church was originally St. Patrick's Church built in the gold mining town of No Town. It is built of Kauri, which grows in the upper North Island, and was sent from Auckland in kitset form. After its arrival in Greymouth it was barged up the Grey River and then horse-sleighed the final five miles (8.4 kilometres) to No Town. By 1922 No Town had become a ghost town and the church was shifted down the road to Ngahere. When a new church was built there in 1958 the old church was purchased by Ted Matthews who later donated it to Shantytown.
This pretty little church is ideal for Weddings.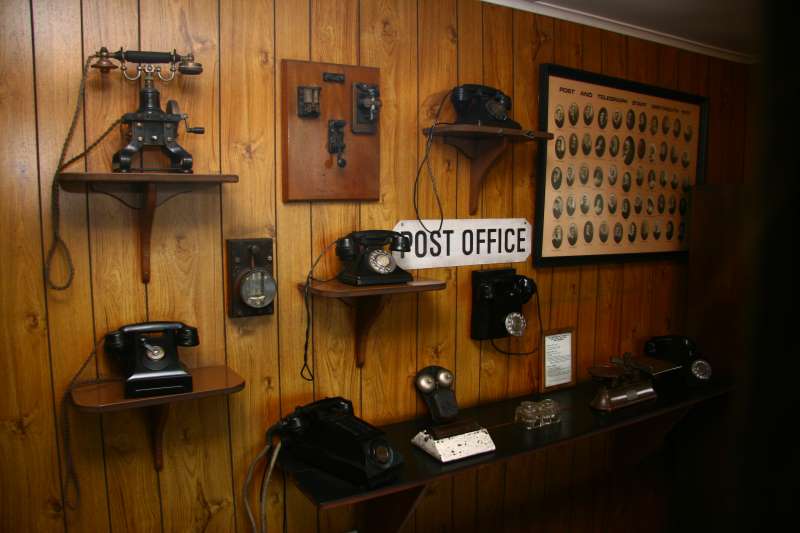 Post Office
Grey River Postal Agency.
Opened on 1 August 1864 and was run by Reuben Waite (see Reuben Waite's General Store). Before the main gold-rush was carried overland to and from Canterbury by local Maori. Once the rush began mail arrived in Hokitika, Greymouth and Westport by sea and was then carried overland to the mining towns by a mailman who traveled on horseback. Such was the importance of the mail that there was great consternation when, in October 1865, the Hokitika Post Office ran out of stamps for more than a week.
Post your postcards from Shantytown and they will be stamped with our very own postmark.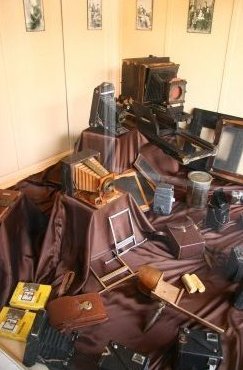 Photographers Shop
Photographers arrived in the West Coast soon after the discovery of Gold.
Business boomed as successful miners were keen to send photos of themselves to their relatives at 'home'. Most of the photographs taken were studio portraits because of the large amount of chemicals and equipment that were needed to take a photograph with the wet-plate cameras that were available at the time. Dry plate cameras became common during the late 1880's their invention meant that it was no longer necessary to carry out chemical processing in the field. During the 1890's hand cameras began to come onto the market and photography started to become practical as a hobby.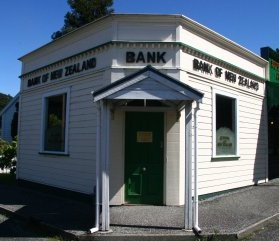 BNZ Bank
Bank of New Zealand.
The BNZ building in Shantytown depicts the more permanent structures that were built in the small towns on the West Coast. The pioneer bank agents were not so lucky. George Preshaw, agent for the Bank of New South Wales , was here during the first days of the rush and had only a pair of saddle bags to base his banking operation in. In November 1864 he sent out a shipment of 350 ounces of gold (about 9 kilograms) which he purchased from miners at the Greenstone diggings – the first place to rush to on the West Coast. Today the gold would be worth $NZD654,500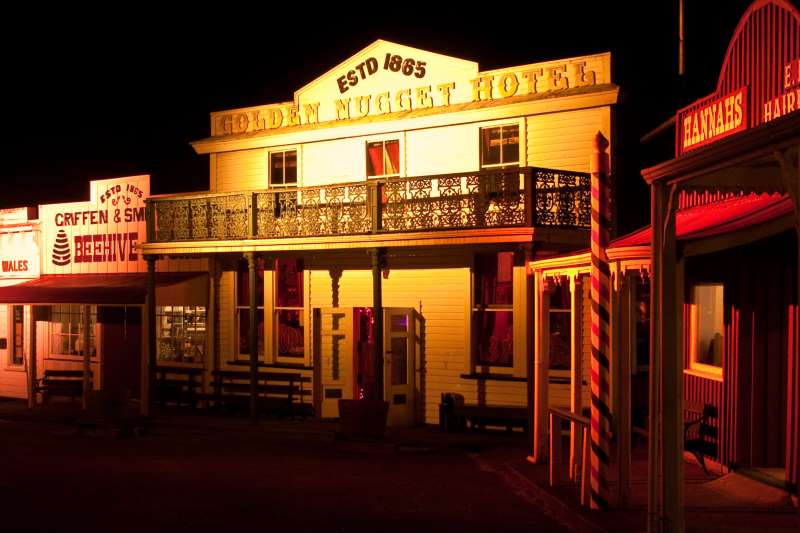 Golden Nugget Hotel
The West Coast Was Famous For Its Hotels. During the gold-rush there were hundreds of hastily built hotels and shanties whose proprietors were eager to cater to the miner's legendary thirst. They usually had an imposing frontage and tried to employ handsome barmaids in order to convince miners that it was a convivial place to spend thier gold.
The veranda posts on the Golden Nugget Hotel are from the Dominion Hotel, Greymouth. and the batwing doors are from the long gone New River Hotel at Dunganville
The Golden Nugget is also the place at Shantytown where the Old Time Photos are taken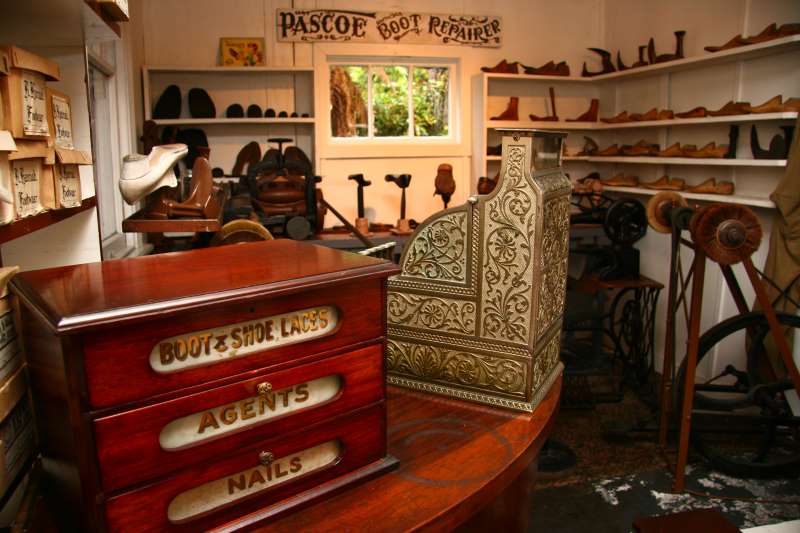 Hannahs Shoe Shop
At least one shoe shop for every town.
Even quite small towns would have at least one shoe shop. The rugged country meant that boots constantly needed repair and making a new pair of boots or shoes (which were made to measure) was a lour intensive process.
Robert Hannah, who went on to become one of New Zealands largest manufacturer and retailer os shoes, opened his first shoes shop at (Charleston near Westport) in 1868.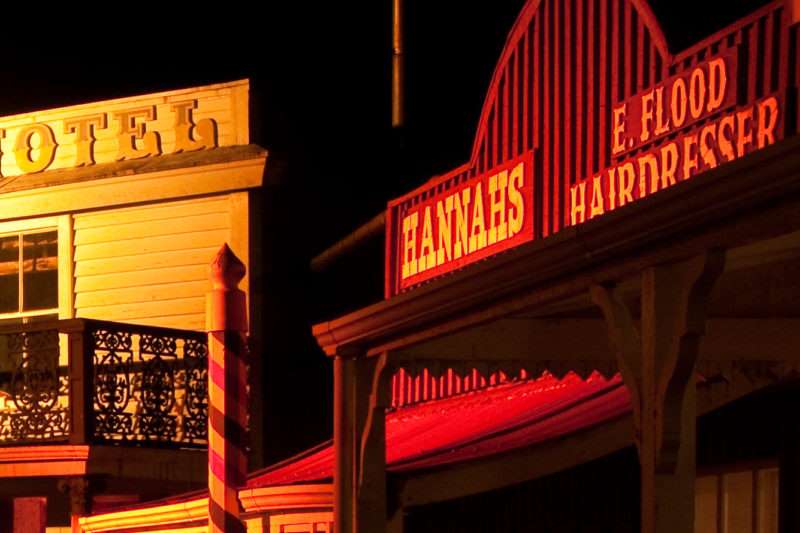 Barbers Shop
The Barber – a versatile businessman.
He not only cut scraggly hair and matted beards but shaved with a cut throat razor, pulled teeth, read and wrote letters for people who couldn't do it themselves, sold tobacco and kept a newspaper library for his clients. The barber shop was a hotbed of gossip amongst the customers, many of whom would spend hours in the secluded male world of the barber shop.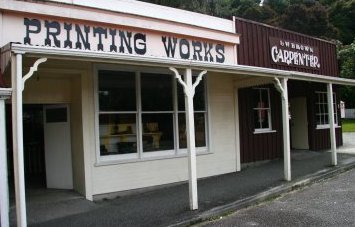 Carpenters Shop
Carpenters Were In High Demand
During the gold-rush buildings were erected 'any old how' but once a town began to settle down carpenters were in demand to build more 'substantial' shops , hotels and houses suitable for raising families. Unless people brought furniture with them they relied on local cabinetmakers to provide beds, chairs, tables and dressers for their homes.
Our carpenters shop features a cabinetmakers bench, tools, lathe from the early 1900s along with examples of the kind of furniture that was for sale at the turn of the century.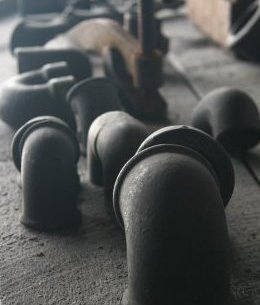 Blacksmiths and Tinsmiths
Blacksmiths and Tinsmiths in Demand. Tinsmiths provided general iron and plumbing materials along with such things as lamps, chandeliers and kerosene burners. On the West Coast a large part of thier business was manufacturing pipes and fluming for mining companies.
Blacksmiths did all types if ironwork and were in demand because of the importance of horses, which needed to be shod regularly, for transport. Blacksmiths heated iron in a fire (maintained by large bellows) until it was white hot and then shaped it on a large anvil.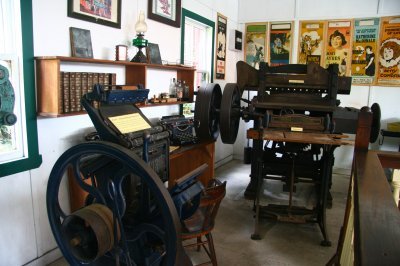 Greymouth Star Printing Works
First paper published in 1865. It didn't take long for the new goldfield's towns to start their own newspapers. The first was the West Coast Times, published in Hokitika on 2 May 1865. In Greymouth the first newspaper published was the Grey River Argus printed on 14 November 1865 in a calico tent. The Colombian Press on display, (built in about 1837), is the same model as the one used to print the early Grey River Argus newspapers. From 1874 they were printed on the first steam driven printing machine on the West Coast.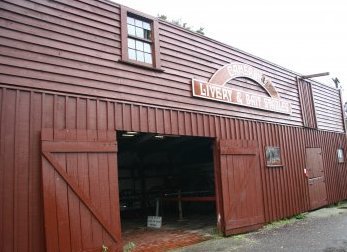 Camerons Livery and Bait Stables
Important Stables and Feed for horses.
From the late 1860s Cameron and Co. in Hokitika provided both passenger and freight transport between the main towns and also distant mining camps. It was a large operation and Cameron's kept 100 horses in Hokitika along with further horses at change stations along main routes.
The term 'livery' meant that horses and horse-drawn vehicles were available for hire while 'bait' signified that traveller's own horses could be stabled, fed and looked after.
The front of the building at Shantytown is from Camerons' Hokitika stable.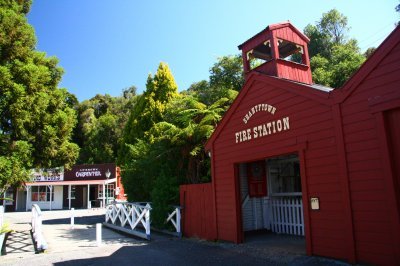 Fire Station
The Greymouth Volunteer Fire Brigade was established on 27 April 1867 and residents donated money for fire fighting equipment. Early apparatus included a second-hand fire engine (imported from Melbourne), a four-wheeled hook and ladder carriage, two 20 foot ladders, 20 leather buckets, and assorted hoses. Uniforms were obtained in 1870. Shantytown's fire station is based on the brigade's first building.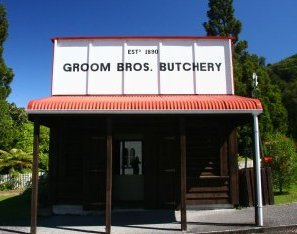 Butchers Shop
The West Coast had only a few European settlers before the gold-rush and when the diggers arrived they had great difficulty in gettting fresh meat. Some enterprising diggers used their dogs to catch birds such as kiwi, weka and kakapo or firearms to obtain ducks and pigeons. While bacon was usually available diggers wanting beef or mutton had to rely on butchers who processed the small number of animals arriving by sea or being driven over the mountain passes between Canterbury and the West Coast. Shantytown's butchers shop is based on the business owned by the Groom Brothers from around 1903 until the mid-1960s.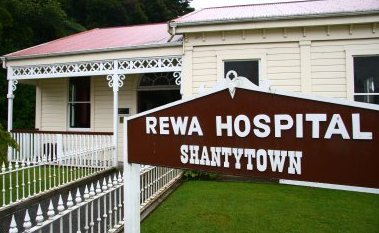 Rewa Hospital
Scariest Exhibit at Shantytown! This reproduction of a small hospital was given the name 'Rewa' after a maternity hospital in Greymouth. Special items in the Shantytown Rewa hospital include the 'iron lung' (from the Westland Hospital), used to keep people alive when their chests were paralysed by polio. The operating table has a hollow brass compartment which was filled with hot weater to keep the patients comfortable. The Shantytown Rewa hospital is filled with old fashioned equipment that is bound to frighten even the hardiest souls!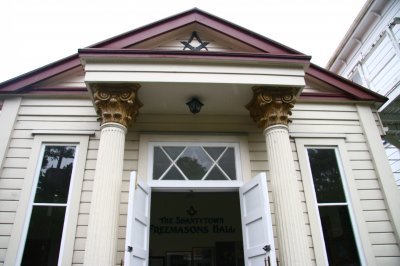 Masonic Lodge
A rare glimpse into the Masonic Lodge. The first Masonic Lodge on the West Coast was the Pacific Lodge consecrated in Hokitika on 8 February 1866. One of that lodge's most famous masons was Richard Seddon who was initiated in 1868 and was Prime Minister of New Zealand from 1893 until his death in 1906. Shantytown's Masonic Lodge building is a replica of the Greymouth Masonic Lodge room (now demolished) and was gifted to Shantytown by the Lodge in 2000. This new building is used by two lodges – Advance No.61 and Mawhera No.65. The building is the first Masonic Hall in an outdoor museum in New Zealand.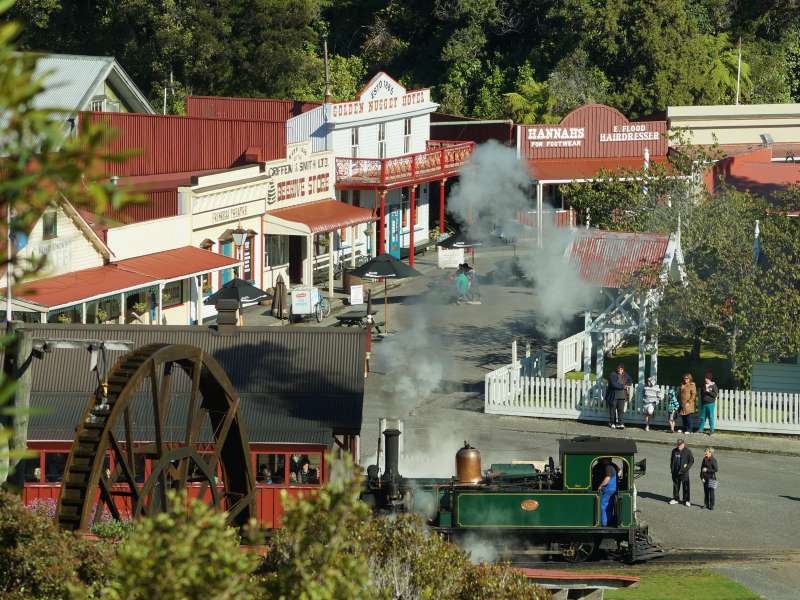 Coronation Hall
Opened by Richard Seddon in 1903 The Coronation Hall was built at Ross in 1902 to commemorate the coronation of Edward VII. It was officially opened by the Prime Minister, Richard Seddon in 1903. The hall served as a community centre and housed a library and newspaper reading room, the borough council meeting rooms and offices. After the decline of Ross the future of the hall was in doubt. Hearing talk of demolition a Greymouth dentist and his friend from New Plymouth donated $250 each to have the hall shifted to Shantytown in January 1974 Today the hall contains examples of a Victorian home and parlour as well as library and the original council meeting table.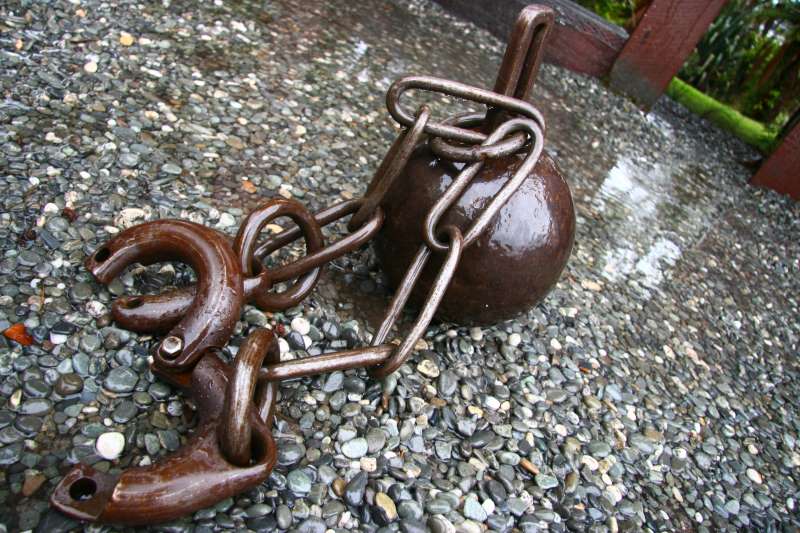 Jail (Gaol)
While the gold-rush population was generally law-abiding there were definitley some dastardly characters around. The Burgess-Kelly gang were active on the West Coast for a few months and boasted that they had 'put away' 30 isolated miners whose disappearance wasn't noticed. The gang was eventually hanged in Nelson, with the exception of Sullivan who turned Kings evidence and disappeared.
Two men were hanged on the West Coast, Anthony Noble for the murder of an 8 year old girl in 1871 and John Donoghue for the murder of his neighbour, James Gifford, at Dunganville in 1884.
Most imprisonments were for drunkenness, assault, debt or having no means of visible support. Small gaols like the one at Shantytown were found in 'up country' gold towns and were used for prisoners on their way to the main gaol at Hokitika or for those given short sentences by the local magistrate.
The heavy doors at the Shantytown Jail (gaol) with the peephole are from the jail (gaol) in Blackball.
You can view the jail (gaol) and even place yourself, or 'friends' in the stocks with a ball and chain for an amusing photo oppourtunity.