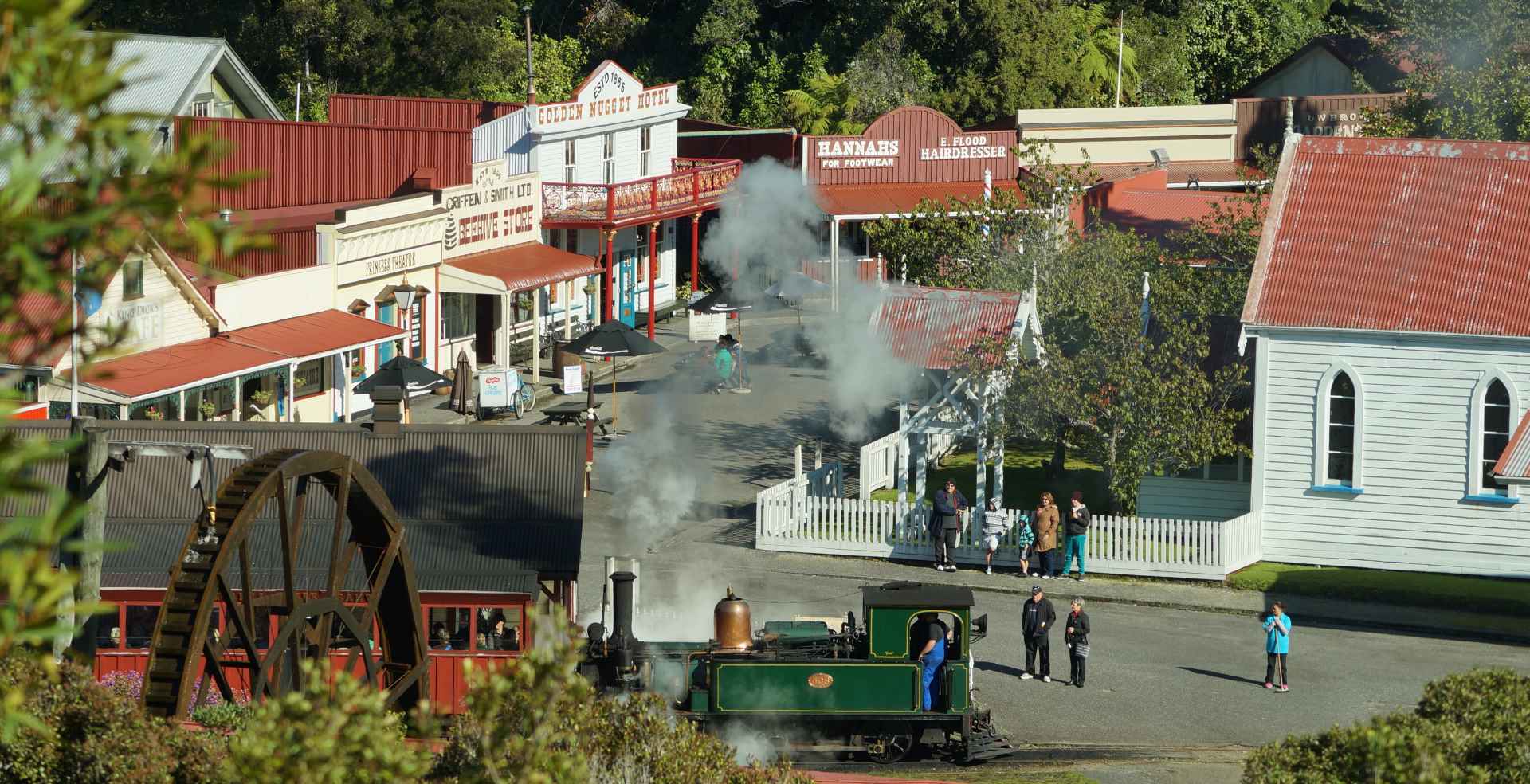 Unique West Coast Wedding Venue
A wedding at Shantytown is like no other; private bush clad location, authentic historic church, full on-site catering and support, while stunning photo opportunities abound
Shantytown Ceremonies
Say your wedding vows in our faithfully restored 1866 interdenominational church (originally from No Town in the Grey Valley) which can comfortably seat up to 70 guests or take advantage of having Shantytown's water wheel as stunning outdoor backdrop on the Cobb & Co lawn.
Receptions
With over 15 years experience, Shantytown's function team have the ability to cater to all your needs with flexibility and creativity. Shantytown's Miners' Hall can accommodate up to 200 guests banquet style or up to 700 guests cocktail style. The Miners' Hall hosts a stage and 2 fully-sprung dance floors for entertainment. We can provide you with all your table and seating requirements, table cloths and linen napkins; however we leave the rest of the decorations to you so that you can design the theme for your wedding day. Shantytown's Miners' Hall is attached to our fully licenced Golden Nugget Saloon Bar. Beverage lists are available.
Prices
Outdoor Ceremony $250 (chair hire additional)
Church Ceremony $150
Reception Venue Hire $350
Ceremony and Reception package: from $400
Two course buffet from $40 per person
Three course buffet from $55 per person
PA System $75 (speakers/2 mic)
Battery powered PA available
Fairy light curtain $50
Rafter fairy lights $30
White lycra chair covers $2.50 each (200 available)
Outdoor chair hire $3.50 each (Black foldout style)
To secure your booking date, Shantytown requires a $300 non‑refundable deposit. This will be deducted from your final account.
Contact
Let our dedicated events team work with you to make your day easy and stress free. Contact Lauren or Laugharne for any enquires, bookings or to arrange a site visit:
Bethany Wilson | Events Coordinator
events@westcoasteventscentre.co.nz
0800 742 689
Laugharne Kemp | Marketing & Events
marketing@shantytown.co.nz
0800 742 689